Welcome Reception
Date: Thursday 20 June 2019
Venue: Melbourne Convention and Exhibition Centre (within the industry exhibition)
Time: 5.00pm – 7.00pm
Dress: Smart Casual
Cost: Included in full registration for delegates and exhibitors. Additional Welcome Reception tickets - $50pp
Following on from a full day of pre-congress symposiums, the welcome reception is a great opportunity for all delegates to mingle with old and new friends, view the posters and network with our industry partners. Drinks and canapés will be served.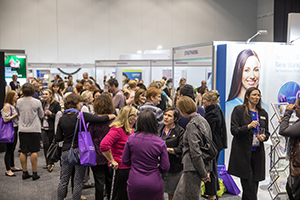 Gala Dinner
Date: Friday 21 June 2019
Venue: Showtime Events Centre, South Wharf, Melbourne (2 min walk from the MCEC)
Time: 7.00pm - 11.00pm
Dress: Dress to impress!
Cost: $110 per head for CNSA Delegates, $140 per head for partners/guests.
The Gala Dinner will be a seated three-course meal, featuring modern cuisine using the freshest local produce and unique products from around Australia.
Dress to impress! – something that you can rock your best moves on the dance floor in as you are entertained by one of Melbourne's famous cover bands. Who will take the 2019 Dancing King and Queen crowns?